California Alliance Conference Page
Championing Science: Navigating the Path to the Professoriate
2019 NSF-AGEP Research Exchange Retreat
Conference Dates: Oct 4 – 5, 2019
Location: Stanford University
The 2019 retreat theme is Championing Science: Navigating the Path to the Professoriate. It will feature opportunities for cross-institutional exchange and professional development between doctoral students, alumni, postdoctoral fellows, faculty, and professional scientists from Berkeley, Caltech, Georgia Tech, Harvard, Michigan, Stanford, UCLA, UT Austin, Washington, and Federally Funded R&D Centers (FFRDCs).
For the first time, nine of the nation's most prominent universities are engaging in joint mentorship, scientific collaboration, career development, and guidance of advanced Ph.D. students and postdoctoral fellows. The goal of the Research Exchange is to increase the advancement of diverse Ph.D. students and postdoctoral fellows from participating top tier institutions into the most competitive research and teaching careers.
2018 AGEP National Research Conference & Retreat:
Suggested arrival date is March 14, 2018 and departure date is March 17, 2018. 
The California Alliance for Graduate Education and the Professoriate invites AGEP Principal Investigators (PIs), Researchers, Evaluators, Alliance Directors, and Project Directors to attend Pathways to a Diverse Professoriate: AGEP National Research Conference. This conference convening will bring together AGEP leaders and researchers to share the results of research aimed at increasing STEM diversity at the graduate level and beyond. 
The goals of the conference are to: (1) Advance knowledge with presentations of research findings, relevant to the AGEP program's goal (to increase the number of URM faculty in STEM disciplines and STEM education research fields by advancing knowledge about pathway models to career success); (2) Provide professional development for the AGEP Principal Investigators (PIs) and a select group of advanced graduate students and postdoctoral fellows who are conducting social science or educational research relevant to advancing knowledge about the barriers and opportunities for URMs in the STEM academe; (3) Disseminate the results of the conference with the production and publication of a conference proceeding volume.
Two days of conference sessions will include presentations about exportable and scalable results and outcomes of research on activities to develop, implement, and investigate academic professional advancement of URMs in STEM and/or STEM education research disciplines. The primary focus of the conference will be on research emerging from AGEP-funded projects or awards. 
Additional sessions will address, but are not limited to, project data collection and sharing; award management; annual reports; new funding opportunities; resources for sustaining and scaling projects to benefit the nation; and dissemination strategies for informing the public and the appropriate research communities about the outcomes and impacts of  AGEP-funded projects or awards. 
Individuals and groups who have AGEP-funded projects or awards are invited to submit abstracts for consideration. Those selected will be invited to present their research findings in talks, panels, round-table discussions, and posters at the AGEP National Research Conference. Postdoctoral scholars and graduate students are invited to apply separately through the postdoctoral scholar and graduate student portal. If selected, postdoctoral fellows and graduate students also will have their travel arranged and paid for by the conference organizers.
In addition to the formal conference sessions, opportunities will be available to encourage cross-award collaborations and to stimulate potential innovations.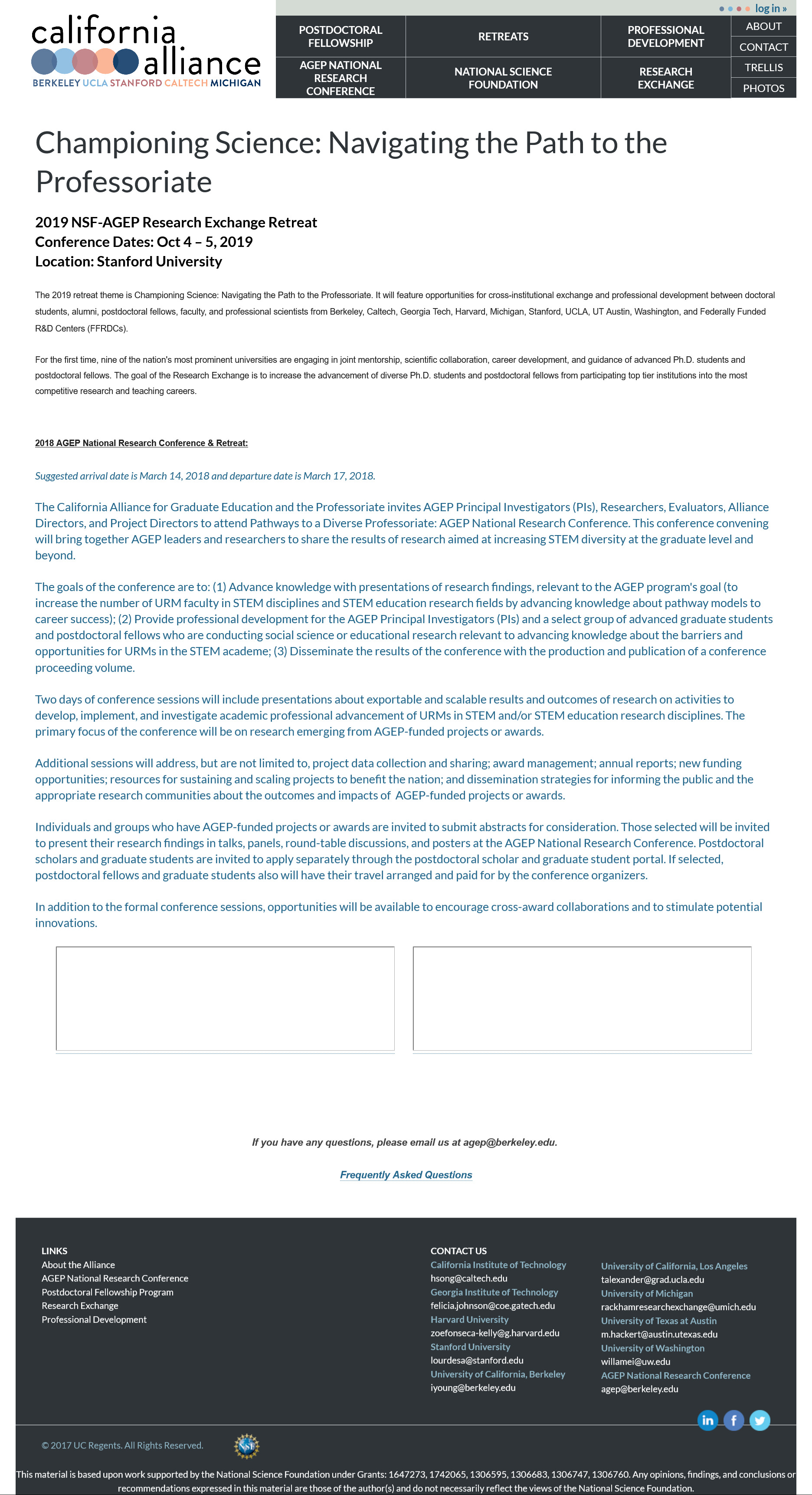 This part of the California Alliance.org web archive.
This material is based upon work supported by the National Science Foundation under Grants: 1647273, 1742065, 1306595, 1306683, 1306747, 1306760. Any opinions, findings, and conclusions or recommendations expressed in this material are those of the author(s) and do not necessarily reflect the views of the National Science Foundation.